Safety glasses and safety goggles can protect your eyes from dangerous debris, impacts, and UV radiation whether you're operating machinery, working with wood, or turning wrenches. In all environments, work-related eye injuries are frequent. Fortunately, many of them may be avoided by wearing safety glasses properly, which shield your eyes from radiation, metal shavings, and chemical spills.
However, picking the safety glasses is not as easy as it seems. Choosing the proper pair that provides you with total protection and ideal aesthetics might be overwhelming with the variety of frame types, lenses, and information available online.
Here is a list of things you should consider to pick the best pair of safety glass
Prescriptions
Some people require prescription safety glasses since sacrificing eye integrity for vision can be redundant and equally dangerous, especially in settings where PPE eyewear is a requirement for health and safety. So, before making a decision, you should most surely consider whether you require a prescription.
Most of the time, safety glasses are available for purchase in shops or online, where there are sizable markets. However, you'll need to follow a little more involved procedure for prescription safety glasses, which often include traveling to your optician for an eye exam. You can often buy prescription safety glasses online, but you'll need to know your prescription to do so.
Purpose
What exactly you need these safety glasses for is still a mystery. Many occupations and pastimes call for the usage of PPE safety specs or even safety goggles, but how can you recognize and figure out which kinds are best for you? Knowing what you'll use them for is vital because different safety eyewear may offer varied protection.
Safety goggles are usually more suitable for a lab setting, where they will shield you from potentially irritating chemical splashes, damaging radiation from bright light sources, and unexpected projectiles. It may depend on the type, though, as some goggles are made to shield the eyes during carpentry or building from things like dust and missiles, which could also pose an unforeseen risk to your eyes' safety.
Additionally, certain safety eyewear may have extras like tinted lenses, anti-scratch coating, and UV or infrared protection. Stronger lenses that can shield your eyes from tiny projectiles traveling up to 190 meters per second are available in sizes that range from those that can withstand small projectiles traveling up to 45 meters per second. The letter EN166 on your temple arms, which designates this as a well-known European safety test, will be there.
Price
This takes us to possibly the most important aspect that will influence your decision regarding safety glasses: the cost of the eyewear. When it comes to safety glasses, many people might be tempted to go with the less expensive ones. Of course, this is a mistake.
The best safety glasses can cost up to $600, but the less expensive ones can be had for as little as $10 without a prescription.
It should be made clear that all safety glasses are tested before they are mass-produced, so regardless of the quality you choose, your eyes will be protected in some way. But quality and longevity are the areas where businesses typically diverge.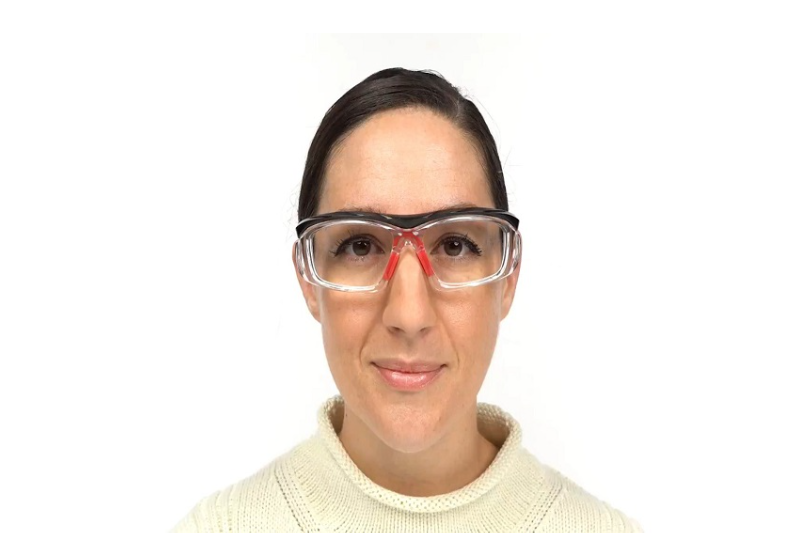 Knowing the Eye Safety Hazards at Your Workplace
If your place of employment needs safety eyewear, it's likely that you'll be given the necessary safety glasses; therefore, until you ask your employer for prescription safety glasses, you won't have much of choice in the matter. There is no actual need to worry about making the correct choice in this situation because the PPE equipment that will be provided to you at work will be appropriate for the workplace environment.
Overall, you have a wide range of safety glass options to pick from, although some may appear more suited based on your situation. Above all else, be sure to know what you're searching for and how much you're ready to pay so that you can be confident in finding the safety glasses that are right for you.
Types of Safety Eyeglasses and Lens Materials
Once you have determined the eye safety risks associated with the workplace, you should familiarize yourself with the various safety eyewear options and the level of protection they provide. Safety glasses and safety goggles are the two main categories of eye protection equipment.
Safety glasses and goggles can shield your eyes from damage brought on by flying objects, particles, optical radiation, and glare from visual radiation, depending on the lens material. Safety eyewear is frequently made from materials like polycarbonate, acrylic, NXT polyurethane, and optical glass. When deciding on a lens constructed from one of these materials, don't forget to weigh the benefits and drawbacks. Here are multiple pros and cons of different lens materials:
Lens Material: Polycarbonate
Pros:
Excellent impact and scratch resistance

Light in weight

Protection against UV rays
Cons:
The optical clarity of polycarbonate is not as good as NXT polyurethane and optical glass
Lens Material: NXT Polyurethane (Trivex)
Pros: 
Premium optical clarity

Ultra-lightweight
Cons:
Lens Material: Acrylic
Pros: 
Inexpensive

Lighter than optical glass

Resistant to solvents
Cons:
Not very durable

Low optical clarity
Lens Material: Optical Glass
Pros:
Excellent scratch resistance

Offers distortion-free vision
Cons:
Heavy lenses

Expensive

Poor impact resistance
Preferences
After choosing the proper lens material for your safety glasses, it's crucial to take into account the following elements that could affect the wearer's level of acceptance and comfort.
Lens Coatings: Non-Rx and Rx safety goggles are made more palatable and useful by adding lens coatings. For instance, having an anti-fog coating on your safety goggles will help you avoid condensation and the inconvenience of often taking them off to wipe off the fog if you plan to use them in a humid climate. Similarly, if you want the lens to be scratch-resistant, you might choose a hard coating.
Lens Tints: When safety glasses are to be used in a situation with a great danger of visual radiation, lens tints are quite valuable. There are several options for lens tints, ranging from simple grey/green coatings to lessen light intensity to tints that offer protection against UV rays.
Prescription Safety Glasses: You may need to wear prescription safety glasses and goggles that have been specially designed to offer the best visibility and total protection if you or your employees have visual impairments.
Comfort and Design: These are the two main aspects that could affect whether safety glasses are accepted at your place of employment. Choose a pair of glasses that are ergonomically constructed, lightweight, and comfortable to wear for long periods of time.
Conclusion
Overall, you have a wide range of safety glass options to pick from, although some may appear more suited based on your situation. Above all else, be sure to know what you're searching for and how much you're ready to pay so that you can be confident in finding the safety glasses that are right for you.